Orange Crush! Pantone's Color of the Year 2012
It is no surprise to moi that Pantone has released a vibrant shade of orange as the color of the year.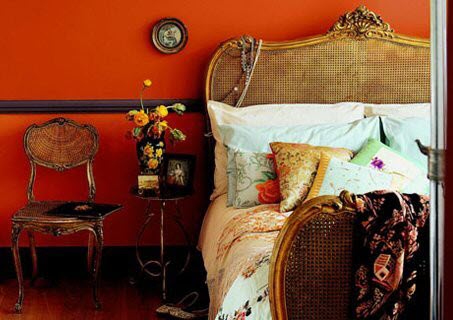 I freaking LOVE orange.* For home, for fashion, for jewelry, for food. They are calling it Tangerine Tango.
Bring on the orange. If you've been a guest in my home, you know that orange figures prominently. You see more pix of my infamous sofa, Orange Crush, here. He's a butt man, bien sur, but also likes to host napping contests, cocktail parties and musical chairs.
Drop me a line if you'd like to meet him.
I have been on the orange train for quite some time (hello, I always outpace the fashion trends. Remember that time in college when I made a friend a pineapples dress and then JCrew came out with a pineapples dress? Yeah.) but really it's just a cyclical thing. And for orange, his time has come.
Less brothel-y than red and more dramatic than yellow, orange is an earthy, vibrant hue that I'm glad is getting his due. (hahaha thanks to Mrs. Lilien for inspiring that little line. I don't know how she rhymes daily.)
If you're color-phobic, here are a couple ways to incorporate some orange:
PILLOWS!!
Hermes has always been a fan of orange, though their orange is not quite this reddish hue.
I didn't find very many orange hand bags that were cute, but I do like the orangey red on this tote that's made in LA.
Long story long, go get your orange on! Not only is it full of beta carotene, but also you will be uber on-trend and orange-licious.
* Orange is the slightly flashier part of the orange/blue pair that characterize my alma mater, UVA. I have a soft spot for orange and blue. for further proof visit www.thecoachingcollective.co . I just love it! So chic, no?